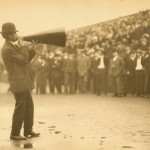 With journalists under so much pressure, it's worth this reminder: do journalists a favour by preparing a press release with TLC.
Here's a handy checklist to help you do that.
 1.   Who do you want to reach?
– What media channels are you targeting    ( e.g. business writers; Melb metro newspapers; all capital city radio; bloggers)?
– Who are your listeners/readers (e.g. DINKS, city business set, social scene)?
Demand good media release construction. Try and avoid getting stuck with press releases constructed by committee and a cumbersome sign-off process.
2.   Headline.
– It is a draw-card?
– Will it attract the journalists you are trying to impress?
– Can it be shortened? Paraphrase. Is it the headline you would like to see?
3.   First paragraph.
– Is it compelling?
– Is it clear, concise and does it tell the story?
 4.   First quote.
– Is it exciting, a teaser? Does it make a journalist want to use it or speak to your talent for more?
5.   The body of the release.
– Does it do your company proud?
– Does it tell the rest of the story: The five Ws: who, what, why, when, where?
6.   Is there a picture opportunity?
– mention it in the release

7.   Does it obey the rules?
– One page;
– No mistakes;
– Formatting (print it out and check);
– Include date, media contact;
– Sent at a time relevant to the journalists you want to impress?
8.   Final checklist?
– Is your media list specific? Don't send to journalists who aren't going to be interested;
– Who will you follow-up with a phone call? Two or three key journalists, or ten? (Don't call them immediately after you've sent the release.)
– One press release that irritates is remembered more than ten that are relevant