We can learn a lot about how to deal with crises and crisis PR from studying others under extreme pressure.
It's hard to imagine what it's taken for James Comey to withstand the sustained controversy of, first, the Clinton email investigation and the rest of the chaos before the election, and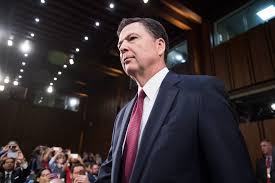 then his sacking, plus the grossly unfair name-calling – 'nut-job'!
The indignation, the sense of wrong, the hurt. It distorts the thinking, clouds judgment, creates doubt and worse, creates despair and depression.
His strength and his values under the immense pressure are, to say the least, impressive.
It's not just Comey's well-measured and incisive presentation during his sworn testimony before the Senate Intelligence Committee. The first indication for me of the man's capacity for cool decision making was his foresight, the first shot in his campaign, in leaking the memo alleging that Trump had pressured him to stop the investigation into the Russian Affair. It fits with a person who's made a career of thinking strategically rather than the knee-jerk reactions of a tactical thinker, like his nemesis, the president.
Having worked in this space – Crisis PR – I see patterns of behaviour. So allow me some guesses and armchair observer status:
My guess is he has a support team – we call it a crisis management team (CMT) – two or three people who he knows and trusts, and who know each other and can work as one. It's that team that ensures his emotions and clouded judgement under the immense pressure don't get in the way of a win. The CMT will probably include a communications strategist, a legal brain, and a political whiz, or at least that combo of skills. But no more than 3 people, because they have to be close, tight, and nimble.
I suspect the team knows Comey's end-game, the objective, which we can't yet see.
And there would have been, will be, lots and lots of talking through scenarios, to anticipate each step through the fog ahead, with every option tested and rehearsed.
They will have mapped out a timeline too, with variables, looking at options of what may go right and wrong.
They will have factored-in Comey's strength and endurance, and that of his family and closest friends. They will have made adjustments for his values, his behaviours, and his ability to communicate – all factors impacting his ability to engender public and political support. In this fight, it's one man against the president and the power of the White House in a republican dominated city.
They will have work-shopped Trump's behaviours too, his likely responses to every tactic, his comments, his tweets, his off-the-cuff commentary. For example Comey's accusation in the hearing that Trump lied, almost certain to inflame a response was, I suspect, deliberate. Perhaps he sought to ensure a media front page; perhaps to provoke the ill-disciplined president.
They will have work-shopped how Comey communicates – media training: messages, including tone; values; behaviours.
They will have rehearsed the presentation at the hearing, to a point where Comey could anticipate each question, and how to answer; but not so much that his responses sounded rote. Spontaneity is important.
They might even have advised him not to read the papers or watch TV – the hurtful and distracting commentary – but trust his team to be his source in information, strength and inspiration.
My guess is:
They will be relying on Trump to misstep, several times; his weaknesses play into their strengths.
But they will also have anticipated the attempts at a character assassination, the Washington group-think reaction to Comey's explosive testimony, yet to come.
Most important, I suspect they have inside knowledge, damning, of what is yet to be revealed about the covert relationships between the Trump camp and the Russians. All factored into Comey's team's timeline.
What stands out to me with Comey, is the strength of the person. His values, now so much on display, are rare. I know from watching others close-up in my own work, that these come from deep within, either from family, religion, a career of trial and error, or somewhere else. It's fair to say, Comey has probably been preparing for this week, over a lifetime.