This week on Channel Seven's Sunrise I was asked how Schapelle Corby, incarcerated for almost a decade, can get on with her life, particularly when the media won't allow it!
While Schapelle's situation is unique, how the journalists and camera crews respond to these larger-than-life extraordinary events, is not. It is largely reactive, based on how the individual being pursued behaves.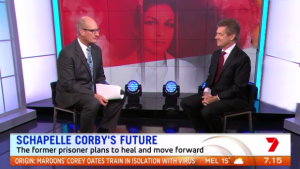 So far, Corby's behaviour is more likely to antagonise than generate sympathy.
It's fair to part-blame the media, and the Indonesian authorities, for that matter; however, there are some important crisis PR lessons for any person in that high-pressure media environment:
1.   Crisis PR: Design a simple set of objectives.
In this particular situation, this can almost be created on the back of an envelope. It might be one objective – simply – try and get back to a normal life asap.
If she's innocent, as she protests, another might be to spend the rest of her life demonstrating that. Another might be to work on law reform in Indonesia. Etc.
But if the single objective is to 'get back to a normal life asap', that does then dictate certain strategies:
a. Work hard on a supportive relationship with the media.
This does not include the circus that we have all witnessed. It does include a calm, structured press conference, as one option. This is easily managed, and all media folk understand what's involved.
The current media-circus makes good TV, but most journalists and camera crews hate it. It generates feelings of hostility. And she'll end up with media commentary that reflects that.
b.   Simple messaging
Probably around talking through what it was like in jail; the support she received from the Australian public; probably also thank Foreign Affairs in Canberra; a plea for peace and quiet; and perhaps a hint for future plans.
Australians are split on Corby, there are those that feel she's had a rough trot, other think she got her desserts. Aussies are warm-hearted and like most human beings, empathetic. They'll allow you your fears and tears. In a press conference, be raw and honest. Speaking plainly, and gently – a short press conference will let Australians make up their own mind, and could turn some of those adversaries, into advocates!
4.   Don't take a fee
Despite the Proceeds of Crime Act, there is probably a way Corby could arrange a payment from a TV channel. But she shouldn't. If she does, it will leak, and a huge number of people sympathetic to her case will desert her, especially amongst those journalists who didn't get the story. Remember the fracas last time she did a deal, with Channel 7, in 2014.
5.   Think carefully about 'brand Corby'
We are all image conscious: how we dress, how we behave, our manners, how we speak. How does Corby want to be perceived? This is not spin-doctoring – it's just plain common sense.
The silly antics in Brisbane when she arrived home were dumb, and lacked forethought, even though she has good reason to dislike the media. But now she playing to a bigger audience, us, and on home turf so plenty of scrutiny. We can write it off as someone giving bad advice, for a while, but eventually the true Schapelle will reveal.
When Peter Greste returned from jail in Egypt (also to a Brisbane airport early-morning media-pack), he clearly gave this a lot of thought, and it's paid off in spades; the press conference was at 10am that morning – Peter would have been beyond exhausted. When Lindy Chamberlain was released from jail after the false conviction of murdering her daughter, she too behaved with aplomb and dignity (she had much more cause for bitterness than Schapelle Corby).
What's often forgotten is that human beings are essentially not cruel, but warm-hearted. They, as an audience watching on TV, just need to see things for themselves.
However, unfortunately it's a reasonable prediction that the relationship with the media and the public will sour, based on the Corbys' current performances.
Other reading: Media training
Photos: Firdia Lisnawati/Associated Press, Dave Hunt/AAP