US TV prime-time talk show host and news correspondent Katie Couric is leaving US ABC TV to join Yahoo as 'global anchor'
and one of a team of senior journalists to beef up its News. While this is not big news in Australia, it heralds the next step in the ever-changing TV landscape that impacts on life in our lounge rooms.
At the same time, new Pew research is telling us that people are stopping watching news on TV, instead picking it up from a variety of sources online, and on a variety of devices.
Until now TV audiences have been in decline but not like the profit sapping loss of audience that has plagued the print industry. Australians have been watching about 3+ hours TV a day and the US, 5+ hours; the news as the cornerstone of evening viewing.
Two possible reasons for this latest change: first the technology is changing faster, giving us more versatile iPads/Phones; second, audience habits are changing – we are becoming more used to rapid change.
A few short months ago, the talk was about the new habit for TV viewers of 'multitasking' – watching TV while simultaneously using an iPod or iPad. It was a significant behavioural change for families that customarily ate in front of the tele (67% of Americans eat dinner in front of the tele).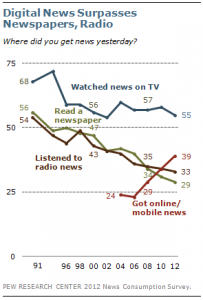 It's the next step that's been unexpected. The recent research indicates people are wandering out of the lounge room. Big change. People are watching/reading news at the dinner table, in restaurants, on the buses, in bed; whenever convenient. And not at 6-7pm – but at times of their choosing.  Leaving aside the impact this has on family life, the device (not the TV) is becoming the dominant relationship.
It's another reminder of how destructive 'disruptive technology' can be.
What's the lesson? What's new is suddenly old. Change is constant and threatening. Chaos is the norm.
But it's more than that. The disruption in the TV industry started 15 long years ago.  Disruption is a constant in the work landscape; the change is not stabilising but getting faster; innovation is now a relentless necessity.
Competition for your attention is increasing: TV, YouTube, online newspapers, TED talks, even university courses. Soon MOOCs (Massive Open Online Courses that are heralding major disruption to universities) or whatever they become will be focussing on presenting education in an entertaining way, to compete for your 'eye-balls' – perhaps more documentary than lecture.
What does it mean for TV execs? There's a painful dilemma – in the short term the new media steals the audience but loses money; traditional TV is still profit making. So, stay cashed up, nimble and innovating. The disruption is evolving.